Join us for an evening with artist and historian Kamau Ware as he leads a gallery talk to expand on the historical narratives depicted in Made in New York City: The Business of Folk Art. Ware has become a sought-after voice to fill the visual abyss of Black New York history, illustrating powerful stories that exist outside of public consciousness. He is the founder of the storytelling project Black Gotham Experience (BGX), an immersive multimedia project that celebrates the impact of the African Diaspora on New York City since 1625 through a series of walking tours, photography-based graphic novels, and events.
This program is organized in partnership with Black Gotham Experience.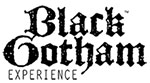 Making Gotham: A Walk with Kamau Ware
On Thursday, June 13, Kamau Ware will lead an off-site walking tour in Lower Manhattan, presented by Black Gotham Experience (BGX) in conjunction with its weekly Nerdy Thursdays event, to bring you outside the museum to the streets of New York and make connections with the recognizable and not-so-familiar locations featured in Made in New York City: The Business of Folk Art. The tour will begin at BGX Studio, 192 Front Street, New York, NY 10038. Purchase tickets for the walk here.
Kamau Ware is a multidimensional creative blending complementary yet disparate disciplines as an artist/historian. He was born and raised in Pittsburgh, Pennsylvania, where he founded an artist collective called BridgeSpotters, which established him as a pioneer in the early 2000s art scene. In 2006, Ware moved to New York City and activated his photographic and curatorial skills to build a Brooklyn photography studio called Kamau Studios LLC, which employs a visual storytelling approach called "storystyle."
In 2008, Ware had a life-changing experience when he was working part-time as an educator for the Tenement Museum. After giving a tour of nineteenth-century New York European immigrants, a middle school girl asked him, "Where were the black people?" Compelled by what was a void in the origin story of New York City, Ware developed an artistic historical project called Black Gotham that would make this unknown history an experience. As the Founder & Lead Creative of Black Gotham Experience, Ware has established an expansive public experience that includes interactive walking tours through Manhattan's Financial District and a developing series of photography-based graphic novels that weave art and history together. The heart of this experience are five stories that revisit Manhattan in 1625, and move forward through three centuries: Other Side of Wall Street, Sarah's Fire, Caesar's Rebellion, Citizen Hope, and State of Mirrors.
Ware's Black Gotham Experience has been featured in the New York Observer, The Atlantic, The New York Times, and Time Out New York. BGX has won awards and grants from Columbia University's History in Action Project and Lower Manhattan Cultural Council. He has also made appearances on NBC New York, ABC New York, and The Huffington Post to share this unique understanding of the Black Diaspora's presence in New York City. Recent engagements include a joint presentation by the Borough of Manhattan Community College, Goldman Sachs, and Lower Manhattan Cultural Council (2017); and the inaugural BLERD (Black + Nerd) City Conference (2017); the American Association for State and Local History Annual Meeting in Austin, Texas (2017); Creative Control Fest in Columbus, Ohio (2017); the New Museum IdeasCity in New York (2017); the Annual Max J Bond Jr. Lecture in New York (2017); and SXSWedu & SXSW Interactive in Austin, Texas (2018). This fall 2018, Ware became a visiting professor for the New School, co-teaching a course titled "Blind Spots: A Walk Through New York City's Black Past."
Event photos by On White Wall.
Images: Photo courtesy of Kamau Ware. Photo by Kenneth Dixon, 2017.
Artist unidentified, Portrait of Peter Williams, New York City, c. 1810–1815, oil on canvas, 25 x 20 ½ in, Collection New-York Historical Society, X.173. Photo © New-York Historical Society.
Thomas W. Commeraw (active 1793–1812), Two-Gallon Jar, New York City, c. 1793–1812, salt-glazed stoneware with cobalt decoration, 9 1/4 x 11 in. diam., private collection. Photo by Gavin Ashworth.