Join us for K-12 student programs throughout the year and bring the collection into your classroom! We are now offering virtual and in-person options. These thematic classes are taught by museum educators and are free of charge. Registration is required. For questions or to schedule your experience, please email us at: education@folkartmuseum.org.
PreK–12 Visits
The Museum's Learning and Engagement department collaborates with teachers to provide inquiry-based programs that explore folk art and the work of self-taught artists in all its forms, in order to deepen and enrich PreK–12 classroom learning and to foster curiosity and critical thinking.
All programs are thematic, interactive, and led by experienced museum educators. Our discussion-driven school programs often incorporate gallery sketching, music and movement activities, as well as hands-on work with the Museum's Touch Collection. Through careful examination of the artists' ideas, materials, and processes, students consider how art can reflect a time, place, person, or community. School programs use works of art in the Museum's collection and exhibitions to establish a forum for discussion and exchange—learning from the objects and one another.
Student and educator programs at the American Folk Art Museum are committed to supporting classroom learning in the ways encouraged by the Common Core State Standards (CCSS). School programs focus on curriculum areas including art, English language arts, and social studies, and relate to the New York State Learning Standards and the NYC Blueprint for Teaching and Learning in the Arts. Our inquiry-based tours and multi-part programs develop skills in evidential reasoning, critical thinking, and public speaking, helping to make students ready to be successful twenty-first century learners.
The program you choose will be tailored to your students' age group and abilities, and the Museum welcomes inclusion classes and students with special needs. The Museum can accommodate up to 30 students at a time and programs are one hour in length.
Program Themes
An Introduction to Folk Art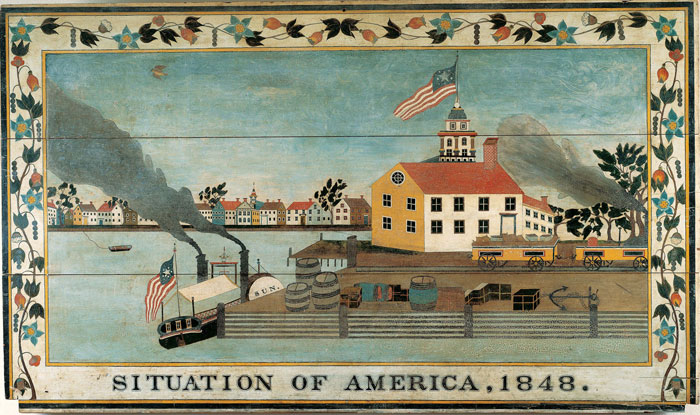 Image: SITUATION OF AMERICA, 1848., artist unidentified, New York City, 1848, oil on wood panel, 34 x 57 x 1 3/8″, American Folk Art Museum, gift of Ralph Esmerian, 2013.1.21.
Students consider the special qualities of folk art through an exploration of works on view in temporary exhibitions and from the permanent collection. Participants develop visual literacy and critical thinking skills by working together to decode, comprehend, and critique works of art in the galleries through careful viewing, group discussion, and hands-on activities.
People & Places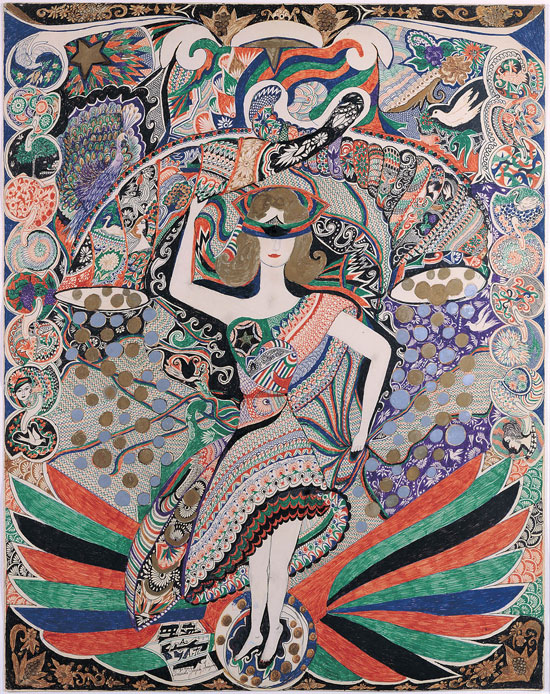 Image: IN THE WORLD, Consuelo (Chelo) González Amézcua (1903-1975), Del Rio, Texas, 1962, ballpoint pen on paper, 28 x 22″, American Folk Art Museum, Blanchard-Hill Collection, gift of M. Anne Hill and Edward V. Blanchard Jr., 1998.10.1. Photo by Gavin Ashworth.
Students investigate character and setting through guided group discussion. Focusing on four or five objects, participants analyze how folk and self-taught artists depict individuals, communities, and place in their works of art, from rolling farmscapes and fantastical landscapes to self-portraits and portrayals of iconic figures.
Artists' Materials & Process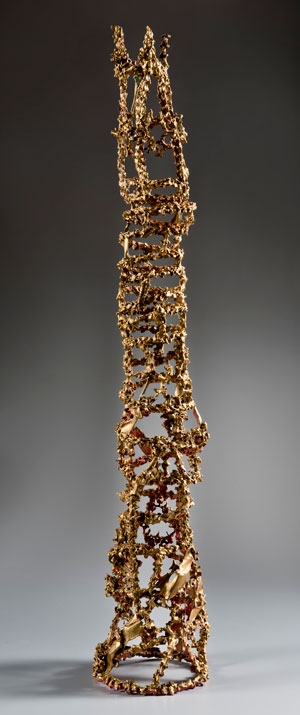 Image: GOLD TOWER, Eugene Von Bruenchenhein (1910-1983), Milwaukee, Wisconsin, c. 1970s, paint on chicken bones and turkey bones, 35 1/2 x 6 x 7″,  American Folk Art Museum, gift of Lewis B. Greenblatt, 1999.22.1. Photo by Gavin Ashworth.
Students investigate folk and self-taught artists' inventive use of traditional and unconventional materials in the creation of artworks, from textiles and clay to found objects such as bones, branches, and buttons. In-depth discussion explores the choices artists make in their design and execution, from appliqué to assemblage.
Educational programs are sponsored in part by the Blanchette Hooker Rockefeller Fund, Con Edison, the Ford Foundation, the National Endowment for the Arts, public funds from the New York City Department of Cultural Affairs in partnership with the City Council, the Department of Youth and Community Services, New York State Council on the Arts with the support of Governor Andrew M. Cuomo and the New York State Legislature, and City Council Member Helen Rosenthal.
Education programs at the Collections and Education Center are funded in part by major support from the Henry Luce Foundation and the Booth Ferris Foundation.