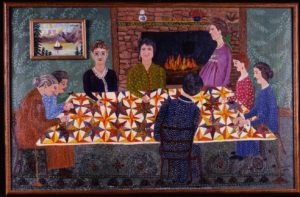 In her painting, Finishing the Quilt, Nan Phelps engages in a sense of life review as she contemplates the humble beauty and familiarity of a scene enacted innumerable times through generations of women. Gathered around a quilting frame, confident and competent, the women of all ages form a circle of community whose continuity is ensured by the presence of a young pregnant woman. It is difficult not to draw comparisons with Grandma Moses, whose memory paintings of a generation earlier evoked similar emotions of an enduring yet changing landscape. 
The serenity and constancy of the scene belie the tough narrative of Phelps's own life. The second oldest of eleven children born into an impoverished family in Kentucky, she was forced to leave school after the eighth grade to care for her brothers and sisters. She entered into an abusive marriage at age fifteen and, after three years, fled with her two children to Hamilton, Ohio. There she met and married her second husband, Robert Phelps, in 1929, and bore three more children. Phelps began to paint during the 1930s, and gained recognition in the post-war years of the 1940s. Like Grandma Moses, her expressive scenes reveled in the small pleasures of the everyday and provided a sense of calm stability in turbulent times.
For more information about this work of art, please click here. 
Stacy C. Hollander, exhibition copy for American Perspectives: Stories from the American Folk Art Museum Collection. Stacy C. Hollander, curator. New York: American Folk Art Museum, 2020
Finishing the Quilt; Nan Phelps (1904–1990); Hamilton, Ohio; 1980; Oil on canvas; 28 1/2 x 44 1/4 in.; Collection American Folk Art Museum, New York; Gift of Robert Phelps in loving memory of his wife, Nan Phelps;1992.18.1; Photo by Gavin Ashworth