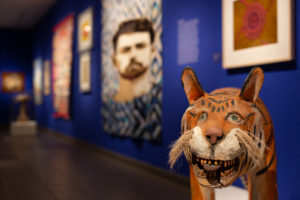 Felipe Benito Archuleta, considered to be the "father" of a New Mexican group of animal carvers, created this fierce tiger. A gigantic brush of straw frames the mouth, which opens to reveal a full set of sharp teeth. The animal's ferocity is tempered by an enormous grin and eyes that seem to express wonder more than brutality. Made in the 1970s, it bears the energy and character of Archuleta's early work, which featured simple snakes and ox-drawn wagons.
Tigere was made at a time when Archuleta's work was proving so popular that he had expanded to a menagerie of animals, both wild and tame, large and small, relying on children's books and magazines such as National Geographic as models for preparatory sketches.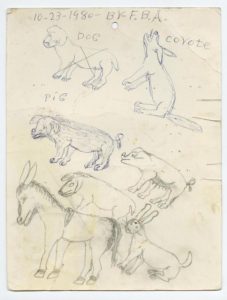 To make his sculptures, Archuleta used a chainsaw to rough out the forms from cottonwood and then applied a variety of carpentry tools to fashion details and shape body parts. Small animals were made from a single piece of wood; larger animals were joined with a mixture of sawdust and glue, the final surface scored or planed to create the texture that he needed. The figure was covered with a coat of white paint and then finished with the final coat. Brooms, rubber combs, rope, wire, and other materials became teeth, whiskers, tongues, manes, and features that bring his animals to life—many with a certain calculated menace, some with a keen sense of humor.
See more works by the artist here.
Images: Photo by Olya Vysotskaya; Pigs, Dog, Coyote, Mule, Hare; Felipe Benito Archuleta; (1910–1991); Tesuque, New Mexico 1980; Pencil and ball point pen on cardboard; 14 × 10 9/16″; Gift of Mr. and Mrs. Charles Rosenak; 1990.10.2;