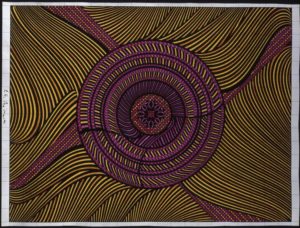 Born in Adrian, West Virginia, Eugene Andolsek was an intelligent, slight boy with artistic sensibilities. His father was a coal miner and a rough and abusive man who derided his son's artistic proclivities. Despite a promise that his father would pay for his college education, Andolsek was sent instead to the Elliott School of Business in Wheeling, West Virginia, and embarked on a career as a clerk and stenographer. When he registered for the World War II draft in 1942, Andolsek was working in the State Department, Division of Public Liaison, for the government in Washington, DC. He served briefly in the US Coast Guard, and was stationed stateside in Baltimore, Maryland, during the war from 1942 to 1946.
For decades, Andolsek was employed as a stenographer on the Rock Island Railroad line that achieved notoriety in the folk song "Rock Island Line," which was first recorded in 1934 by inmates of the Arkansas Cummins State Farm prison. The railroad trade was tough and fast-paced, and the stenographers were hard put to clean up the unvarnished language as it was being dictated. Many young men used their skill as a stepping-stone to greater responsibilities within the railroad. The sensitive Andolsek found the pressure anxiety-producing, yet he lived in fear that he would be fired, an event that did not come to pass for twenty-three years, when the railroad went bankrupt. 
By 1953, Andolsek felt the need to gain some control over his anxiety and began an activity that brought beauty and relief into his life: artmaking. As a child, he had collected stamps because he was attracted by the intricate lines and delicate colors. Over the course of the next fifty years, Andolsek made thousands of ink drawings, rarely sharing them with anyone. His nightly ritual entailed drawing hypnotic patterns on paper at his kitchen table using a straightedge and a compass. He said his drawings just "came out" of him. He would sometimes wake "and a drawing was there and I didn't even know how it got there." First, he created the black outlines, the "designs," and then filled them in with beautiful colors achieved through his own careful mixing of store-bought inks that he blended with an eyedropper.
In 2004, Andolsek was diagnosed with macular degeneration and was ultimately unable to continue drawing. He died on September 17, 2008, at age eighty-seven, having received recognition for his jewel-like compositions. Today, a memorial scholarship in his name, established by The Community Foundation of Westmoreland County, gives students living in Westmoreland and dealing with a chronic medical condition the opportunity to continue their education.
Stacy C. Hollander, exhibition copy for American Perspectives: Stories from the American Folk Art Museum Collection. New York: American Folk Art Museum, 2020.
Untitled #9B; Eugene Andolsek; (1921–2008); Crabtree, Pennsylvania; 1950–2003; India ink on graph paper; 16 1/2 x 22 in.; Collection American Folk Art Museum, New York
Gift of the artist, 2005.18.2; Photo by Gavin Ashworth