At the Self-Taught Genius Gallery
Long Island City, Queens
Take a deep dive into the world of the artists on display in the New York Experienced exhibition at the Self-Taught Genius Gallery through a study of the American Folk Art Museum's archival holdings. Join us as we explore the papers of Ralph Fasanella, a renowned self-taught artist whose detailed paintings depicted the lives of every day New Yorkers in the twentieth century. We will also view other documents and photographs that the museum has gathered through the years on New York–based artists, including Gregorio Marzán and Ionel Talpazan. Assistant curator Steffi Duarte will walk visitors through archival pieces that detail these artists' processes, lives, and overall practice.
Address:
47-29 32nd Place
Long Island City, NY 11101
Map (click to enlarge):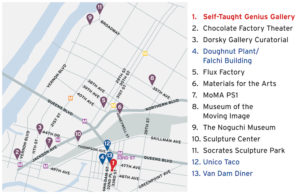 Subway: 7 train to 33rd Street, walk 2 blocks
Bus: Q32, Q39, Q60