The 2019 Anne Hill Blanchard Uncommon Artists Lecture will explore new research on self-taught art of Ghana in conjunction with the museum exhibition Paa Joe: Gates of No Return, presented until February 24, 2019. Speakers include Kristin Otto on fantasy coffins (abebuu adekai), Silvia Forni on Asafo flags, and Ernie Wolfe on hand-painted movie posters. Coffee and pastries to start.
The Anne Hill Blanchard Uncommon Artists Lecture Series highlights new and important contributions to the field of folk and self-taught art. The annual series honors the late Anne Hill Blanchard, an inspiring and passionate leader in the field and a devoted supporter of the American Folk Art Museum.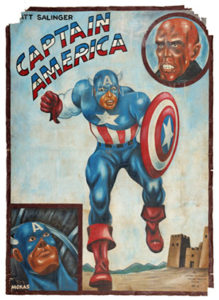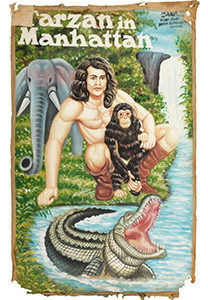 Schedule
10:30 AM  Registration / coffee and pastries
10:45 AM  Welcome / Jason T. Busch, Director, American Folk Art Museum
11 AM  Kristin Otto: "The Making of Life and Death: Ghanaian Figurative Coffins at Paa Joe Coffin Works"
11:30 PM  Silvia Forni: "Blazing Ensigns: The Arts and Artists of Asafo Flags"
12 PM  Ernie Wolfe: "Continental Convergence: Golden Age Hand-painted Movie Posters from Ghana"
Dr. Silvia Forni is senior curator of African Arts and Cultures at the Royal Ontario Museum, Toronto. Her most recent exhibition projects have been Here We Are Here: Black Canadian Contemporary Art (2018), Isaac Julien: Other Destinies (2017), and Art. Honour and Ridicule: Asafo Flags from Southern Ghana (2016). Since 2013, together with Julie Crooks and Dominique Fontaine, she is responsible for the Of Africa project, a multi-platform project aimed to support a sustained and long-term promotion of the cultural and creative diversity of Africa and its diaspora through an engagement with the collections in the museum and in dialogue with contemporary artists and creators. She is the author of numerous essays and book chapters. Among her recent publications is the volume Africa in the Market: 20th Century Art from the Amrad African Art Collection (2015), edited with Christopher B. Steiner, and Art, Honor, and Ridicule: Fante Asafo Flags from Southern Ghana (2017), co-authored with Doran H. Ross.
Kristin Otto is a PhD candidate in Anthropology at Indiana University–Bloomington, focusing on museum anthropology and material culture studies. She is a National Science Foundation Graduate Research Fellow and a research associate with the Mathers Museum of World Cultures. She curated the exhibition at the Mathers titled Shapes of the Ancestors: Bodies, Animals, Art, and Ghanaian Fantasy Coffins based on research with the artists at Paa Joe Coffin Works in Ghana. Her dissertation research focuses on African objects and repair, and the intersections between the ways that we care for objects and our constructions of authenticity and identity. Preliminary research for this project formed the basis for the mini-exhibition that she curated for the Eskenazi Museum of Art at Indiana University titled Extending Lives: Repair and Damage in African Arts. In her engagement with museum collections, she enjoys linking practices of material culture and art in source communities with global processes of curation, collection, and interpretation.
Ernie Wolfe III is a collector, curator, and African art and culture expert. He has made nearly fifty trips to Africa since 1973, and is a graduate of Williams College, Massachusetts. Wolfe is a lifer in the world of African art and culture, establishing his gallery in West Los Angeles in 1981, where he has been critically recognized for his exhibitions juxtaposing African painting and sculpture and the work of acclaimed contemporary American artists. He has written four books on various African art phenomena, ranging from the traditional material culture of Kenya to contemporary topics, such as the two authoritative and seminal texts on hand-painted movie posters from Ghana. He was a collaborator on the recent exhibition Ghana Paints Hollywood, organized by the New Britain Museum of American Art.
Image credits: Kweku Kakanu (1910–1982); Saltpond Workshop; Asafo Flag with Whale and Ship; c. 1925–1950; cotton, appliqué, and embroidery; 109 × 200 cm; ROM 2012.65.4. Photo by Brian Boyle. Courtesy of the Royal Ontario Museum.
Flag dancing performance during Akwambo Festival. Dentsifo No. 2 Company Gomoa Dago, 2014. Photo by Silvia Forni.
Daniel Anum Jasper handpainting details on the face of a lion palanquin. Photo by Kristin Otto. Courtesy of the Mathers Museum of World Cultures, Indiana University.
Lawson Chindayen, Captain America, 1991, oil on canvas, 60 x 45 in. Courtesy of Ernie Wolfe Gallery.  
Leonardo, Tarzan in Manhattan, 1995, oil on canvas, 63 x 45 in. Courtesy of Ernie Wolfe Gallery. 
Educational programs are sponsored in part by the Anne-Imelda Radice Education Fund, the Blanchette Hooker Rockefeller Fund, Con Edison, the Ford Foundation, public funds from the New York City Department of Cultural Affairs in partnership with the City Council, the Department of Youth and Community Services, New York State Council on the Arts with the support of Governor Andrew M. Cuomo and the New York State Legislature, and City Council Member Helen Rosenthal.