Teachers College & American Folk Art Museum: Teaching Fellowship Program
The American Folk Art Museum Teaching Fellows Program provides the opportunity for graduate students to work with and learn from the American Folk Art Museum's encouraging community of arts professionals and museum staff, as well as from its collection, special exhibitions, and audiences.
This program is offered to currently enrolled graduate students. Accepted candidates will teach from AFAM's permanent collection and special exhibitions by giving thematic, gallery-based tours and learn how to make their unique academic knowledge engaging and accessible to the museum's diverse and growing audience.
As emerging educators, teaching fellows will learn to work directly from art objects with confidence; strengthen their teaching pedagogy; deepen their understanding of visual culture, American history, and the continuum of folk and self-taught art; and develop effective communication skills. Teaching Fellows will be an integral part of the museum's work environment within the education department.
Candidates must be currently enrolled in a graduate-level program in art education or a related field, finishing their coursework or working toward the completion of their advanced degree. Teaching Fellow positions are open for a full academic year, from September 2018 to May 2019.
A weekly commitment (whether gallery teaching, researching remotely or in the museum library, or attending periodic training meetings) of 1–3 hours is expected.
A modest compensation will be offered in the form of a stipend each semester.
The American Folk Art Museum is the premier institution devoted to the creative expressions of self-taught artists, past and present. Since 1961 the American Folk Art Museum has been shaping the understanding of art by the self-taught through its exhibitions, publications, and educational programs. As a center of scholarship and by showcasing the creativity of individuals whose singular talents have been refined through experience rather than formal artistic training, the museum considers the historical, social, and artistic context of American culture. Its collection includes more than seven thousand artworks dating from the eighteenth century to the present, from compelling portraits and dazzling quilts to powerful works by living self-taught artists in a variety of mediums.
How to Apply
Please submit a statement of interest and your CV to education@folkartmuseum.org by Friday, April 27, 2018.
IMPORTANT: Please inform your academic advisor before you apply for this Fellowship to assess whether (a) this is a good fit for your program and (b) you may be able to earn academic credit for your work at AFAM.
Susan Te Kahurangi King Fellowship
THE APPLICATION PERIOD IS NOW CLOSED
Committed to furthering research on Susan Te Kahurangi King (b. 1951, Te Aroha, New Zealand) and contemporary self-taught artists, the American Folk Art Museum has created the Susan Te Kahurangi King Fellowship program to be operational between May 2016 and May 2018. The program is generously funded by Mr. and Mrs. Lester A. Levy Jr.
Fellowship Project: 2016–2017
The fellow will work closely with the museum's curator for self-taught art and art brut, to extensively study the Susan Te Kahurangi King artworks and documents that have been lent to the museum, over a period of twelve months (part-time) starting in May 2016. During the length of the fellowship, the fellow will write an article on the works studied to be published by the museum, develop a web page to be hosted on the museum's website, and deliver a public lecture during an event organized by the museum on aspects of the research. At the conclusion of the fellowship, the fellow will be invited to contribute to an exhibition on Susan Te Kahurangi King.
Eligibility
Postdoctoral researchers, artists, graduate students, and PhD candidates enrolled in a qualified academic program in the United States or abroad are eligible to apply. Applicants must submit a one-page description (max. 600 words) on the scope of their research on Susan Te Kahurangi King, including their approach and the results to be achieved. They should include a curriculum vitae (with professional experience, awards, and publications), a paragraph (250 words) about their current position or the academic program they are enrolled in, and a signed letter of reference.
Terms and Funding
— Deadline for all application materials, including letter of recommendation: March 4, 2016, 5 pm
— Announcement of the recipient: April 4, 2016
— The fellowship must take place between May 1, 2016, and April 30, 2017
— Funding: $2,500
How to Apply
Send your proposal by mail or e-mail to the attention of:
Susan Te Kahurangi King Fellowship
American Folk Art Museum Administrative Offices
47-29 32nd Place
Long Island City, NY 11101
info@folkartmuseum.org (with subject line "Susan Te Kahurangi King Fellowship")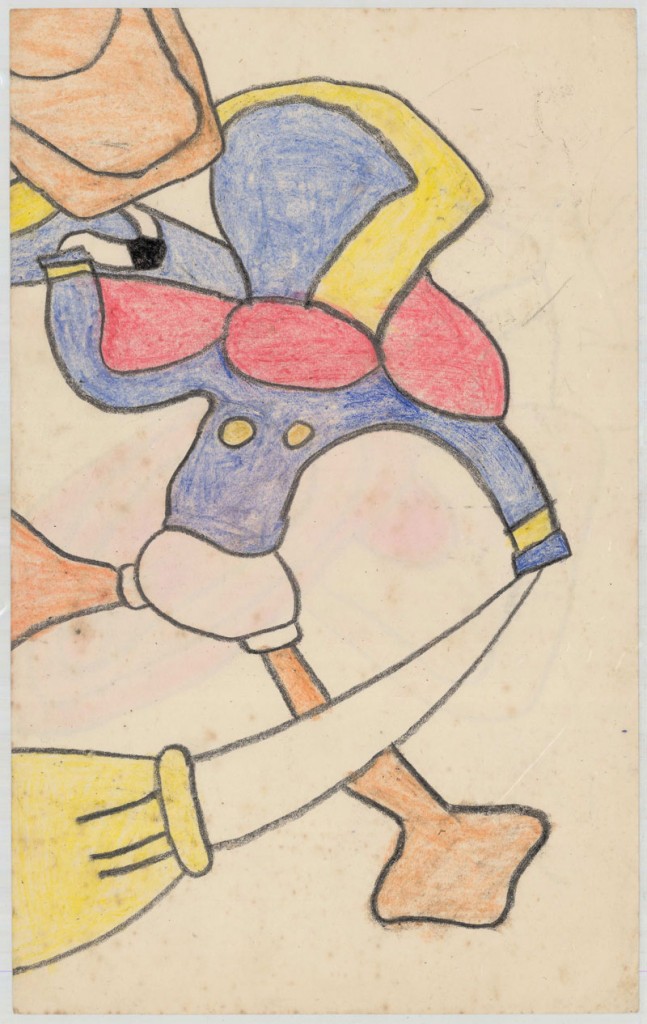 Profile of Susan Te Kahurangi King
by Petita Cole, Rachel King, and Chris Byrne
Susan Te Kahurangi King was born in 1951 in Te Aroha, a small rural town in the Waikato, New Zealand. She is the second eldest in a family of twelve children. Her father, Doug King, also known as Takarangi Kingi, though a copy editor by profession, was a passionate advocate and teacher of Maori language and culture. Therefore, it is no wonder most of the children's middle names are Maori. "Te Kahurangi" translates as "the treasured one."
At the age of three, King loved to talk, sing, and imitate anything she saw or heard. By the age of four, her ability to speak was in decline, and by the age of eight, it was a thing of the past. Occasionally she would sing in bed at night, but before long, that too had stopped. Though professional advice was sought and a number of assessments made, there were no conclusive findings or a diagnosis. At the age of five, King started school. Though her stay was short, her teacher reported that Susan displayed remarkable mental activity in the creation of complicated figures drawn on paper, and that she was able to concentrate on drawing for hours at a time. As King's inability to speak set in, so too did her heightened ability and commitment to draw. Even at the tender age of seven, she was prolific and showed signs of talent as a young artist. In 1960 the family moved to Auckland to meet King's educational needs. She now lives in the family home of one of her sisters in Hamilton.
At some stage in the very early 1990s, coinciding with a period where she was evidently feeling low, King left drawing completely. However, in 2008, fueled by renewed interest shown in her work, during the filming of Pictures of Susan (directed by Dan Salmon, Octopus Pictures Limited, 2012), she picked up the pencil and began to draw, continuing where she had left off almost two decades prior. King's earliest drawings share the same qualities as other children's, save for their exceptional precocity. As one becomes acquainted with her work, the rigorousness of her visual vocabulary—which shows a disregard for and indifference to time and medium—is evident.
In spite of King's "isolation" from verbal and written communication, she has methodically created an entire analogous world through her work. After spending time reviewing the drawings and their chronology, the viewer will begin to discover visual lists, catalogs, or indexes of certain objects, which get reconfigured and distorted beyond recognition in subsequent pictures.
Top: Susan Te Kahurangi King (b. 1951, Te Aroha, New Zealand), untitled, Te Aroha, New Zealand, c. 1960, crayon on paper, 13 1/2 x 8 1/4 in., courtesy of the artist and Chris Byrne, A32502. Photo by Adam Reich.
Bottom: Susan Te Kahurangi King (b. 1951, Te Aroha, New Zealand), untitled (double-sided), Te Aroha, New Zealand, c. 1960, crayon on paper, 13 1/4 x 8 1/4 in., courtesy of the artist and Chris Byrne, A32417. Photo by Adam Reich.