At the Self-Taught Genius Gallery
Long Island City, Queens
Co-organized by the Chocolate Factory Theater and Queens Library at Court Square, this program for pre-k and elementary school-aged small folk will feature quilt-themed stories selected from the stacks of the Queens Library. Read by Sheila Lewandowski, co-founder and director of the Chocolate Factory Theater, these stories will explore pieces and patchwork, traditions and tall tales. Following the reading, museum educator Nicole Haroutunian will lead an interactive scavenger hunt that takes a closer look at the quilts on view and the stories they have to tell.
As a special addition to this program, the Queens Library Bookcycle will be on site to issue new library cards and check out a special selection of books to Story Hour participants!
Please note that this program takes place on the second floor, which is accessed by stairs. For participants who require an elevator, please email stggallery@folkartmuseum.org to make arrangements in advance.
Since its first season in 2005, The Chocolate Factory Theater has supported the development and presentation of new work by a community of local, national and international artists working in dance, theater, and interdisciplinary performance. The Chocolate Factory's programs have drawn many thousands of new visitors to its 5,000 square foot industrial facility in Long Island City, Queens. The organization recently purchased a permanent facility in the neighborhood.
Address:
47-29 32nd Place
Long Island City, NY 11101
Map (click to enlarge):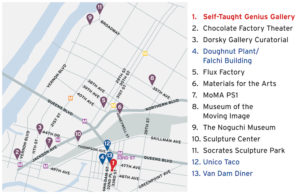 Subway: 7 train to 33rd Street, walk 2 blocks
Bus: Q32, Q39, Q60