At the Self-Taught Genius Gallery
Long Island City, Queens
Join us at the Self-Taught Genius Gallery in Long Island City over your noon break for a free tour of Roadside Attraction with the exhibition's curator, Sarah Margolis-Pineo.
Drawn from the collection of American Folk Art Museum, Roadside Attraction evokes the spirit of a cabinet of curiosity for the automobile age. Tradeshow signs, circus banners, and miniatures are exhibited alongside artworks illustrating the paranormal, fantastic, and carnivalesque. Highlighting works created within artist-built environments, this exhibition examines the relationship between curiosity and entertainment, illuminating the ways they interweave to make space for extraordinary ideas and other worlds.
If this program has sold out, please send an email to be placed on the waitlist to smargolis-pineo@folkartmuseum.org.
Address:
47-29 32nd Place
Long Island City, NY 11101
Map (click to enlarge):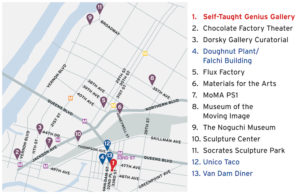 Subway: 7 train to 33rd Street, walk 2 blocks
Bus: Q32, Q39, Q60