Join us at the Self-Taught Genius Gallery in Long Island City over your noon break for a free tour of Handstitched Worlds: The Cartography of Quilts with assistant curator Sarah Margolis-Pineo.
Handstitched Worlds: The Cartography of Quilts is an invitation to read quilts as maps, tracing the paths of individual stories and experiences that illuminate larger historic events and cultural trends. Spanning the nineteenth to the twenty-first centuries, the exhibition brings together a collection of quilts from the collection of the American Folk Art Museum that represents a range of materials, motifs, and techniques—from traditional early-American quilts to more contemporary sculptural assemblage.
Reservation recommended.
Please note that this program takes place on the second floor, which is accessed by stairs. For participants who require an elevator, please email stggallery@folkartmuseum.org to make arrangements in advance.
Address:
47-29 32nd Place
Long Island City, NY 11101
Map (click to enlarge):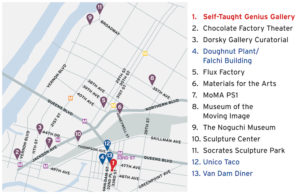 Subway: 7 train to 33rd Street, walk 2 blocks
Bus: Q32, Q39, Q60