At the Self-Taught Genius Gallery
Long Island City, Queens
Criminality and handcraft coexist as the predominant themes of Margaret Atwood's Alias Grace. The book is based on the true crime account of nineteenth-century author Susanna Moodie. Atwood constructs an imagined biography of infamous murderess Grace Marks (1828–c.1873), an Irish-born Canadian domestic servant, convicted in 1843 of murdering her employer, Thomas Kinnear, and his housekeeper, Nancy Montgomery. The novel unfolds through a series of conversations between Grace and fictional psychiatrist Dr. Simon Jordan. Sedately stitching away, Grace reveals fragments of her memories, piecing together details of her life story and alleged crime that come together like the blocks of a patchwork quilt.
In the spirit of the novel, this Folk + Feminism Book Club explores craft and crime, and memory and history, through a two-part talk inspired by the idea of the quilt as a metaphor. First, dilettante and cultural historian Sara Clugage will address the sociopolitical context of Atwood's novel, delving into systems of gender, craft, and labor in the mid-nineteenth century. Following, New York Times bestselling novelist Kimberly McCreight will unpack the craft of psychological crime fiction, speaking to the ways that writers piece together narratives across time, merging memory and experience to bring new meaning to the present.
Please be assured that familiarity with Alias Grace is not required to attend this inaugural Folk + Feminism Book Talk. This program is organized in conjunction with Handstitched Worlds: The Cartography of Quilts, an exhibition prompting visitors to read quilts as maps, tracing the paths of individual stories and experiences that illuminate larger historic events and cultural trends.
Light refreshments will be served.
Please note that this program takes place on the second floor, which is accessed by stairs. For participants who require an elevator, please email stggallery@folkartmuseum.org to make arrangements in advance.
Sara Clugage is a dilettante. She lives and works in Brooklyn, where she is the editor-in-chief of Dilettante Army, an online publication for art and critical theory. In addition to weaving and writing, she acts as a director for the Craft Advanced Research Projects Agency (CARPA), is part of the Leadership Collective for the Wikipedia campaign Art+Feminism, and hosts a series of salon dinners themed on the artistic production models and culinary histories of diverse times and places. She holds an MA in Visual and Critical Studies from the School of the Art Institute of Chicago.
Kimberly McCreight  is the New York Times bestselling author of Reconstructing Amelia, optioned for film by HBO and Nicole Kidman's Blossom Films; Where They Found Her; and The Outliers, a young adult trilogy. The Collide, the final book in The Outliers trilogy, was published this July. Ms. McCreight has been nominated for the Edgar, Anthony, and Alex Awards. She attended Vassar College and graduated cum laude from the University of Pennsylvania Law School. She lives in Brooklyn, New York, with her husband and two daughters.
Address:
47-29 32nd Place
Long Island City, NY 11101
Map (click to enlarge):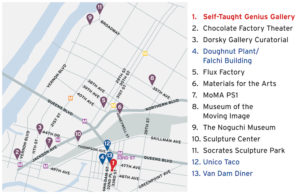 Subway: 7 train to 33rd Street, walk 2 blocks
Bus: Q32, Q39, Q60