Join the American Folk Art Museum in celebrating Veterans Day! From noon to 7 pm, we will offer guided tours of the War and Pieced exhibition, an afternoon film screening of the 1964 classic film Zulu (138 minutes), and hands-on activities for all ages. At 1 pm and 4 pm, art historian Jacqueline Atkins will discuss the relationship between quilts and propaganda, and at 5 pm, Warrior Writers—a community of military veterans, service members, artists, and allies who reflect on and express the veteran experience—will perform poetry readings. Refreshments and snacks will be served throughout the day.
SCHEDULE 
1–2 pm: Critical walkthrough: Jacqueline Atkins on Quilts as Propaganda (RSVP required; limited to 20 individuals)
Jacqueline Atkins, former chief curator and curator of textiles for the Allentown Art Museum in Pennsylvania, is a textile historian and curatorial consultant. She lectures and writes on American and Japanese quilt history, and on Japanese and Western wartime textiles and kimono. In addition to articles in Japanese and American magazines and journals, her publications include Quilting Transformed: A History of Contemporary Quilting in the United States; Wearing Propaganda: Textiles on the Home Front in Japan, Britain, and the United States 1931–1945; and a chapter on Japanese novelty textiles in The Brittle Decade: Visualizing Japan in the 1930s. Dr. Atkins was a judge for the NHK Japan Quilt Grand Prix in Tokyo for eight years and was also a recipient of a Fulbright Research Award to Japan, which led to her interest in the wartime and other early modern Japanese textiles. She holds a PhD in Decorative Arts and Material Culture from the Bard Graduate Center.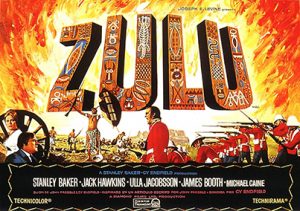 2–4:15 pm: Film screening of Cy Endfield's Zulu, a 1964 epic war film depicting the Battle of Rorke's Drift between the British Army and the Zulus in January 1879, during the Anglo-Zulu War. It depicts 150 British soldiers, many of whom were sick and wounded patients in a field hospital, who successfully held off a force of 4,000 Zulu warriors. Zulu is licensed by Swank Motion Pictures.
4–5 pm: Critical walkthrough: Jacqueline Atkins on Quilts as Propaganda (RSVP required; limited to 20 individuals)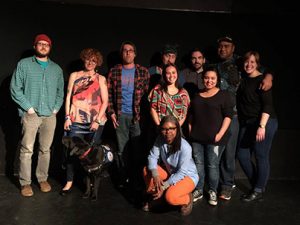 5–6:30 pm: Poetry reading by Warrior Writers' Nicole Goodwin, Sarah Mess, Omar Columbus, and Jan Barry (RSVP required)
Warrior Writers is a national non-profit organization. Its mission is to create a culture that articulates veterans' experiences, build a collaborative community for artistic expression, and bear witness to war and the full range of military experiences. Learn more about its work at warriorwriters.org.
Banner image credit: Hungarian Soldier's Intarsia Quilt, artist unidentified, Austro-Hungarian Empire, 1820–1830; wool, with embroidery thread; inlaid; hand-appliquéd and hand-embroidered; 46 1/2 x 60 in.; Collection Museum of Military History, Vienna.